During the months of February and March, I spent time reading novels for Young Adolescents (YA).  Many of these books could be paired up as side by side reads: Budding romantic relationships (36 Questions That Changed My Mind About You / Optimists Die First); contemplating African American Identity (Dear Martin /Piecing Me Together/Speak No Evil); challenging assumptions about ourselves (Optimists Die First / 90 Days of Different); gun violence (Shooter / Long Way Down).  Any and all of these books will engage readers 12+ who are questioning who they are and who they are becoming. (Is there any teenager who doesn't?)
EVE & ADAM by Michael Grant and Katherine Applegate
Husband and wife team, Michael Grant (BZRK, Gone Series) and Katherine Applegate (Home of the Brave, Wishtree), famous for the popular Animorph series, have joined forces to write a science fiction novel about a teenage girl is challenged by her mother, a renowned geneticist, to create 'the perfect boy. Applegate is a favourite author of mine. Science Fiction is not my genre of choice. I gave up after 133 pages, enough for me to decide that I wasn't enjoying this book. Teenagers who favour science fiction are welcome to have my copy of the book.
36 QUESTIONS THAT CHANGED MY MIND ABOUT YOU by Vicki Grant
This book, by Canadian novelist Vicki Grant is framed around 36 questions that are part of a psychology experiment (based on a real life study) about the possibility of love being engineered.  Teenagers Hildy and Paul each have their reasons for signing up for this research project. Much of the novel is written as dialogue / messages between the two characters. Readers of this novel become eavesdroppers on the funny and honest conversations -and yes, quirky, growing relationship – between Hildy and Paul, each character dealing with troubled family life, each revealing their stories and feelings about the life that has shaped them.  Morever, readers can't help but consider how they might answer the questions presented throughout the novel. For example, Question 11: Take four minutes and tell your partner your life story in as much detail as possible. Question 14: Is there something you've dreamed of doing for along time? Why haven't you done it? Question 18: What is your most terrible memory?
SPEAK NO EVIL by Uzodinma Iweala
Technically, this is adult fiction, but according to the New York Times Review, "Iweala writes with such ease about adolescents and adolescence that 'Speak No Evil, could be a young adult novel." (Ruman ALam, Sunday, March 18, 2018.  The main character in this novel, Niru, a Nigerian, now living in Washington, struggles with coming out, with being a black American and being the son of immigrant parents with strong religious beliefs. For adolescent readers, Niru's journey is a strong contrast to the Simon vs the Homo Sapiens by Becky Albertalli.  (i.e., the movie Love, Simon)
OPTIMISTS DIE FIRST by Susin Nielsen
Susan Nielsen is a terrific author – a terrific CANADIAN author -that has great appeal for many young adolescents (Word Nerd, The Reluctant Journal of Henry K. Larsen, We Are All Made of Molecules.) A family tragedy has made sixteen year old Petula De Wilde (irony in her name) a paranoid optimistic who struggles to copy with every day life.  One day she connects with Jacob, (a boy with a prosethetic arm) who is able to slowly peel away the layers of  Petula's paranoid outlook on life. Nielsen has written episodes of the popular Degrassi Junior High Series and other TV programs and is adept at capturing the interactions, the connections and the conversations of  many Young Adults.
DEAR MARTIN by Nic Stone
The teachings of Dr. Martin Luther King swarm inside the mind of Justyce McAllister, an African American honour student destined for an Ivy League School. When caught in the turmoil of being handcuffed (even though he was innocent) and witnessing his best friend's shooting by a white off-duty cop, Justyce writes "Dear Martin" letters to his hero to help him find answers to his identity and his dreams and social justice issues.
90 DAYS OF DIFFERENT by Eric Walters
90 days of summer. 90 chapters. 90 exciting adventures for high-school graduate Sophie Sophie is labelled as being a girl who is always in control, totally responsible and completely predictable. Her friend Ella wants to shake up Sophie's life before they head off to college and plans a 'something different' adventure each day… crashing a wedding, being a runway model, riding a mechanical bull in a cowboy nightclub, getting arrested (almost) and feeding the homeless in a soup kitchen. The premise is a terrific one for this popular author who always knows how to tell a good story and with this novel is able to spin 90 adventures that change one teenager's life. Mr. Walters you write good books!
PIECING ME TOGETHER by Renee Watson
Jade feels like an outsider in the private school she attends. Jade is a bright (scholarship), talented (collage art) who lives by her mother's credo that it is important to take advantage of every opportunity that comes your way. One of those opportunity's is a mentorship program called Woman to Woman where this brave young African American teenager questions racial identity, privilege and the realistic possibilities of her dreams and hopes. Readers of this novel will likely sympathize with the questions that Jade poses about relationships and her place in the world and root for Jade as she struggles to find answers from her mother, her mentor, her friends, her teachers. Jade is not a quitter.
SHOUT OUT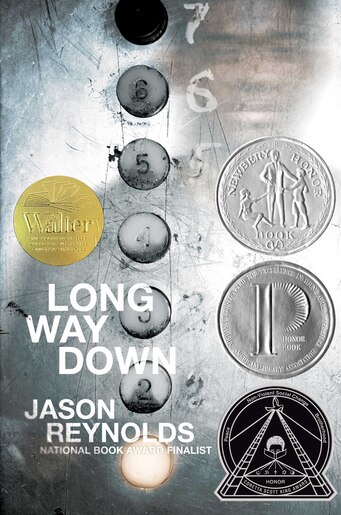 I revisited two important novels from 2017 that deal with guns and teenagers. Sometimes the fiction we read helps us to gain deeper understanding of world news.
SHOOTER by Caroline Pignat
From the jacket: "A lockdown catches five grade 12 students by surprise and throws them together in the only unlocked room on that empty third floor wing, the boys' washroom. / Told in five unique voices through prose, poetry, text messages, journals and homework assignment, each student reveals pieces of their true story as they wait for the lockdown to end." It is not a drill. There is a shooter in the school." (Winner of the Canadian Children's Centre John Spray Mystery Award, 2017)
LONG WAY DOWN by Jason Reynolds
In this free verse award-winning novel, Reynolds tells a story in real time about one daunting and haunting seven floor elevator ride with fifteen-year old Will who has a gun hidden in the waistband of his jeans. Will is seeking revenge for the murder of his brother.  Where will his conscience